Welcome back, our Holiday Reporter readers!
We are falling in love with Aruba's spectacular weather today and we want to share our autumn joy with you! Join us through our journey. Read all about our history, our holiday specials, and our newest dining options. We look forward to your visit to our Caribbean piece of heaven soon! #Youshouldbehere
Fall into Paradise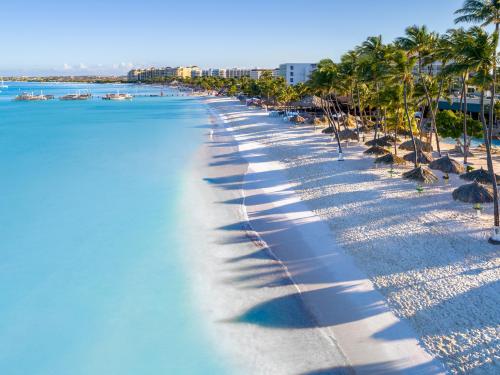 All you need is your bathing suit and flip flops.
This autumn, take advantage of this spectacular island at the Holiday Inn Resort Aruba; located on a quarter mile of beach in one of the most envied locations of the island – Palm Beach. It sets the stage to create unforgettable moments in sugary white sandy beach with turquoise waters. Stay at the Holiday Inn Resort Aruba and confirm our theory that Aruba is paradise.
Swinging to the Golden Years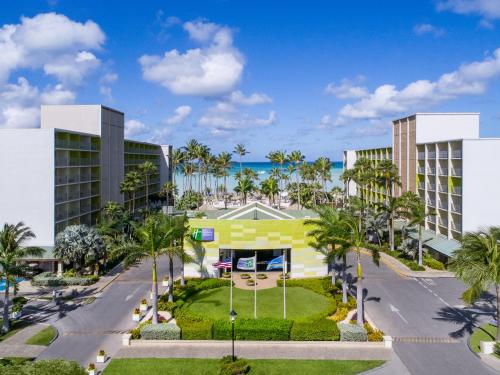 Can you believe that the Holiday Inn Resort Aruba has been serving its guests with love for almost 50 years?
Yes, the Holiday Inn Resort Aruba opened as Holiday Inn of Aruba on October 22nd 1969. It opened with 200 rooms on the tower that we know today as the Ocean Tower. By the end of 1974 before Christmas an additional 200 rooms were opened in what we call the Palm tower. And finally in 1989 what we know as the Sea tower was opened with an additional 200 rooms.
2019 will be a very special year for the Holiday Inn Resort Aruba and we hope you can be here on this spectacular occasion to celebrate our milestone of being part of the Holiday Inn chain for 50 years.
Let's Taco 'Bout it on Tuesday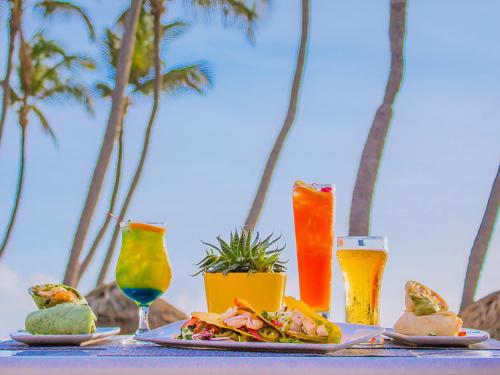 Even though National Taco Day is celebrated annually on October 4th in the United States, every Tuesday night is Taco Tuesday at the Holiday Inn Resort Aruba!
Come and create your favorite Mexican treat; from a vast assortment of fresh ingredients and a delicious salad bar at this all-you-can-eat weekly event. The options are endless, be as creative as you want to be and celebrate your inventiveness with tasty sauces – have you tried 'Pico de Gallo' yet? What are you waiting for?
¡Órale, Viva Taco Tuesday Señores!

The world "Connected by Water"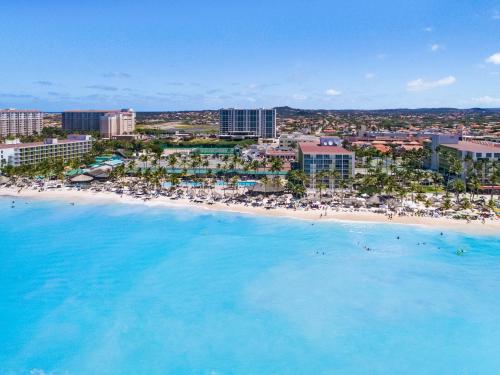 Aruba's history is the collection of over 90 nationalities living happily together – in a melting pot of uniqueness and smiling faces that makes it "One Happy Island".
The Holiday Inn Resort Aruba celebrates this diverse collection of cultures by offering a menu with dining options from countries all around the globe. Should you be looking for a plate from North or South America, Asia, Europe or the Caribbean, the Sea Breeze Restaurant & Bar is the right place to visit for lunch and dinner. A few examples of their extensive multicultural options are the 'Corvina a la huancaina' a Peruvian dish, the 'Beef & Shrimp' a slow roasted Dutch steak, as well as their vegan Indonesian 'Gado Gado' salad. Whatever you decide to try, you will not regret this world-class experience and you'll be tempted to try a different dish every night!
Take me to the Carnival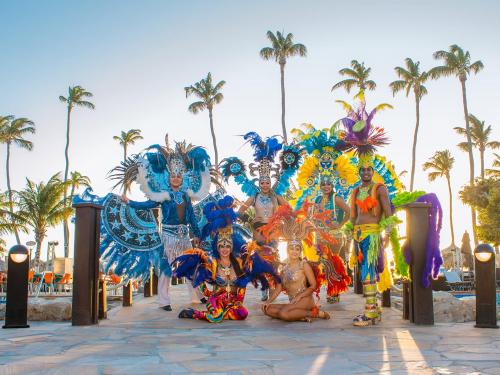 At the Holiday Inn Resort Aruba we celebrate Aruba's oldest tradition every Saturday night at the Oceanside Terrace!
Enjoy an assorted buffet open from 6:00pm to 10:00pm and approximately 30 minutes of Aruba's colorful costumes, contagious music and electrifying vibes at our Carnival night.
History section: Did you know that Aruba's Carnival was born in 1954 as a series of small street festivals? After a few years the official Carnival's organizing body was formed and since then this event has become the biggest celebration on the island. Join us, once you've experienced Aruba's Carnival you'll understand why Aruba is the place to be.
INN Papiamento Lessons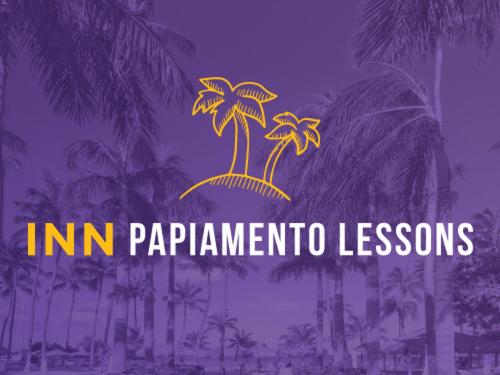 "Hey! Con bai?" remember this phrase from our last Inn Papiamento Lessons? Refresh memory with our last Holiday Reporter here and come back for some new words from Aruba's native language.
"Bon bini!" (Bun be knee) – Welcome!
"Mi ta contento!" (Me tah con ten toh) – I am happy!
"Bunita" (Boo knee tah) – Beautiful
Feeling local yet? Visit Aruba and enjoy the Aruba Aribas while you learn the cool language!
Welcome the holidays under a Palm Tree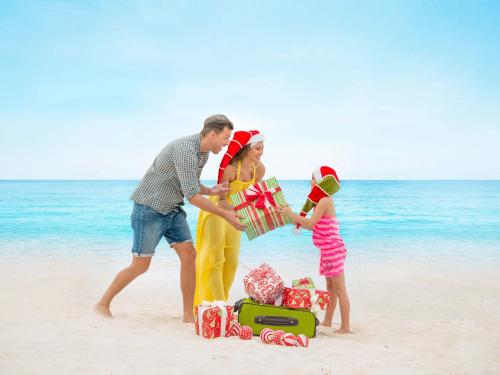 Wishing you could spend your Holidays in an unforgettable location?
The Holiday Inn Resort Aruba offers you the best deals to stay at this little slice of wonderland to celebrate the special holidays. We will be offering delicious menus and special dining options for Thanksgiving, Christmas Eve, Christmas day, New Year's Eve and New Year's Day.
Allow us make your vacations truly amazing by offering you a picture perfect setting for these special festivities.
Eager to find out more?
Thank you so much for reading us, and have a safe flight! We will be waiting to catch you as you fall into paradise! J