Wedding Venue In Aruba
Host your special day at our stunning wedding venue in Aruba! Situated on Palm Beach and featuring all the amenities you'd look for when selecting a wedding venue in Aruba, our property is the ideal place to host your magical event.
Our expert team is always on hand to ensure you enjoy a stress free experience throughout your event. Offering a large variety of well-appointed guest rooms, we can easily accommodate large groups traveling to the area for your special day.
---
Our Venues
Whether you're looking to enjoy a small and intimate gathering or a grand event, we have the perfect venue for you and your guests. Across our three event spaces, we can accommodate anywhere from 40-240 across a variety of room configurations. Additionally, our beachfront location allows us to host the perfect outdoor ceremony!
Visit our meetings page to learn more about our event spaces!
---
Our Expert Team
Our team of event planners are always on-hand to make sure your event runs smoothly from start to finish. Take the stress out of your big day by relying on our team to assist with everything you may need. From selecting the perfect cake, to finding the perfect centerpieces, we are here to help throughout your wedding planning journey.
---
Catering Services
Pair your wedding with an exceptional menu of appetizers, mains, and desserts! Choose from our wide menu to find the perfect dishes to complement your special day. Beverage options allow you to select your favorite wine, beer, or champagne to serve with your dinner.
• Reception wedding menu
• Evening wedding menu
• Beverage menu
---
Our Packages
Our wedding venue in Aruba offers a selection of packages, making it easy to plan your special day. Explore packages designed for small, intimate gatherings, and additional packages that are built perfect for a larger celebration.
Happily Ever After Guarantee
We're pleased that Holiday Inn Resort Aruba is an official part of Aruba Tourism Authority's 'Happily Ever After Guarantee' a postponable destination policy for couples dreaming of booking a 2021 wedding or honeymoon, but are worried about coronavirus affecting future travel.
Couples can book their 2021 event of a lifetime in confidence, knowing their special occasion can be postponed due to coronavirus pandemic issues, by providing a 30-day notice period. As part of the 'Happily Ever After Guarantee' program, weddings and honeymoons booked for 2021 can be postponed for up to a year from the original event date. This does not include airfare or transportation.
Please read on for our terms and conditions and we look forward to welcoming you for your big day!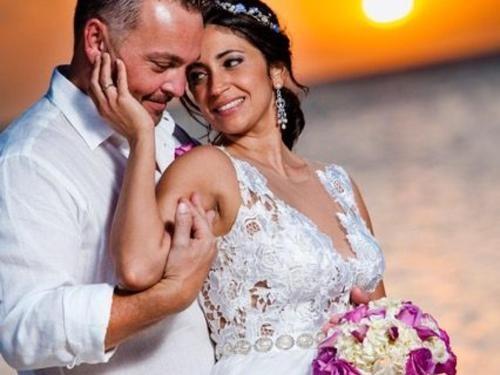 Nathalie Torres & Diego Pirazzo
I am supremely grateful for everything! Thank you all for the friendship and collaboration, the wedding was beautiful and was an unforgettable experience, more than you could imagine. Love from Venezuela.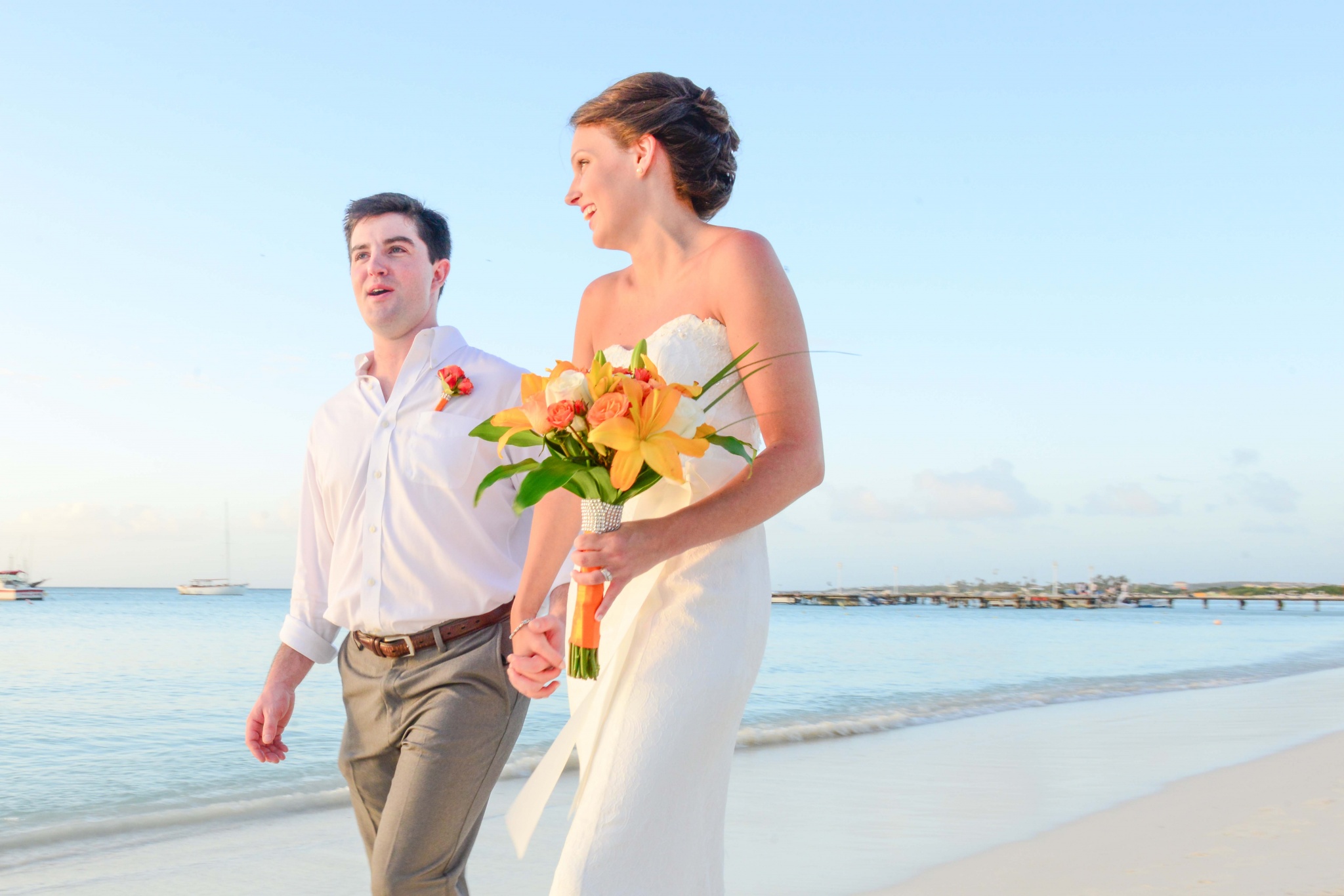 Jessica Warner & Ben Murphy
Thank you from the bottom of our hearts......
Stress free is usually not something you hear from a bride and groom when they describe their wedding planning process but that's exactly how we would describe ours. When we decided to have a destination wedding our main priority was finding a resort with a wedding planner we could trust.
When I tell you they took care of everything I mean everything! They were in constant communication with us throughout the entire process. Every one of our questions and concerns was addressed immediately. They truly took all of our ideas and made them a reality for our special day. We are so grateful for the Holiday Inn staff who made us, as well as everyone in our party, feel special during our stay on the island.

The majority of our guests had never visited the island before and they have all said they cannot wait to go back.Thank you from the bottom of our hearts for making our wedding day as amazing as it was! We are so grateful for all of your hard work and cannot wait to visit you again!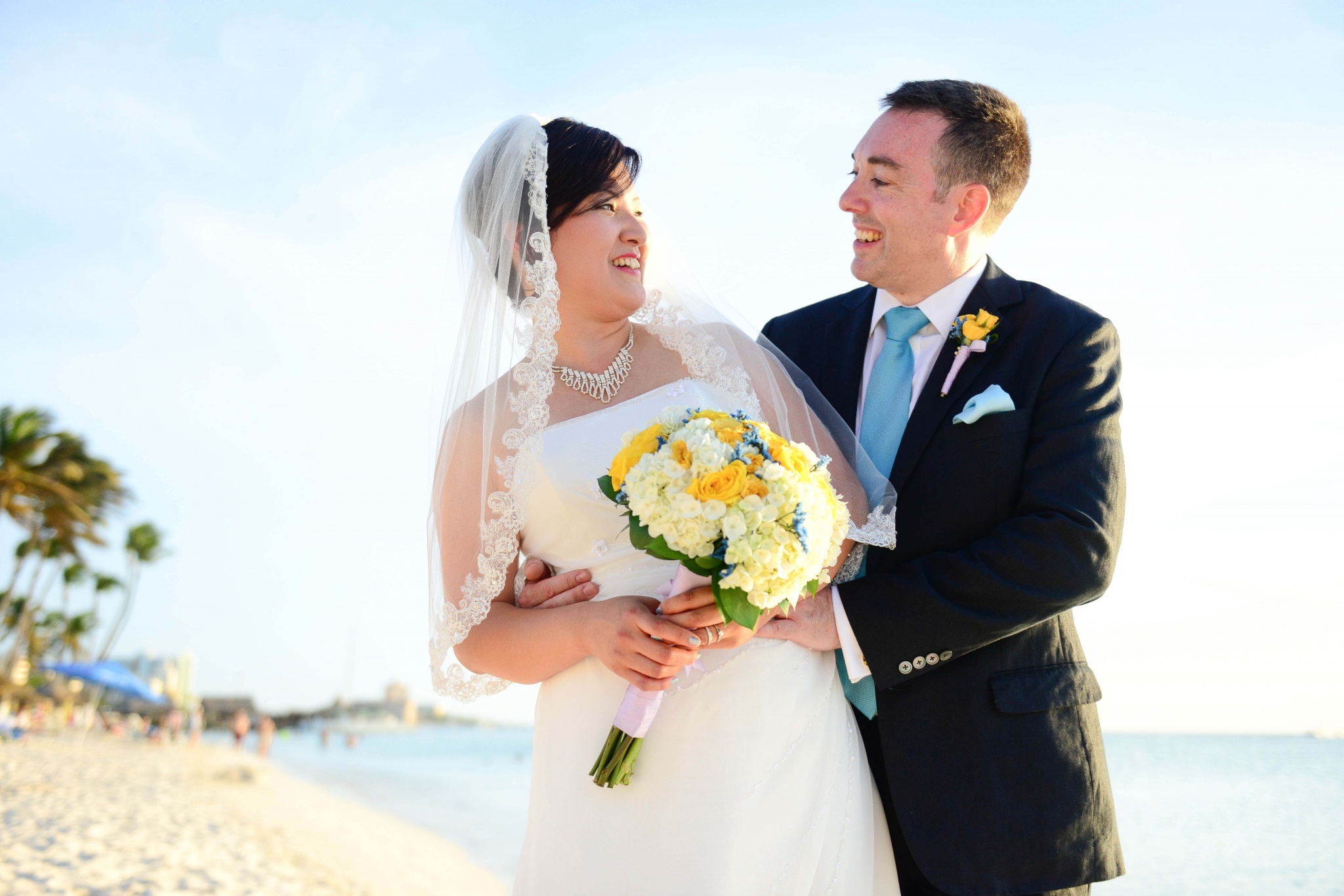 Hyun Kyung Kim & Dwight Redfearn
The entire event was most memorable....
Everything was arranged for our wedding exactly as we wanted it from the welcoming reception we booked with the hotel in the garden to the ceremony on the beach and reception. The ceremony was performed on the beach while the sun set over the ocean directly behind us which made for a very memorable and romantic event. We had our reception on the beach afterwards and all of the staff was very attentive and professional and the food was fantastic.
The minister who performed the ceremony was wonderful and made the event even more memorable.
In all the entire event was most memorable and was highly praised by not only us but our guests as well.